BIOGRAPHY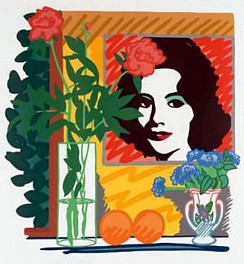 1931 - 2004
Tom Wesselmann was an American pop artist, along with Andy Warhol, Roy Lichtenstein and Claes Oldenburg. He specialized in found art collages.
Born in Cincinnati, Ohio, Wesselmann was drafted into the Army for the Korean War. Afterward, he studied at the Art Academy of Cincinnati, and later at the Cooper Union for the Advancement of Science, Art and Architecture in New York City. While still at the Cooper Union Wesselmann learned to paint, his initial purpose of going into art was to become a cartoonist.
His early work was heavily influenced by the abstract expressionist painters, especially Willem de Kooning. His art became more popular in the 1960s and had his first one-man exhibition in 1962 at the Tanager Gallery, New York. After that, his art made it to several other exhibitions such as the Young America exhibition in 1965, Whitney Museum, New York.
Beginning in the 1950s, he made collages from magazine clippings and found objects, often incorporating female nudes. Wesselmann was best known for his "Great American Nudes" series, which he started in 1961. He has continued to feature the female nude in every major series of paintings and sculpture throughout his career.
He died of complications following heart surgery, at the age of 73.