BIOGRAPHY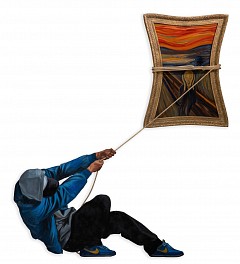 B. 1992 -
Hijack is a prodigy in his own right and one of the most talked-about, up and coming artists in today's contemporary art scene. Hijack's works are a revelation in street art - imaginative, brilliantly constructed and seen in cultural hot spots all over the globe, from Los Angeles to London. As he's evolved as an artist, Hijack has crafted a persona, inspired by the spirit of music and the poetry of everyday moments, that creates colorful and meaningful perspectives on life.
In April 2013, Hijack took the UK art scene by storm with his first solo exhibition. The show was so highly anticipated that it sold out. Works including: Never too Young to Dream Big and Perfection is False, struck a chord with the exhibition's attendees. When Hijack hit the streets tagging a stencil of Never too Young to Dream Big in London, it caused such a sensation that it quickly caught the attention of UK news outlets and websites. The exhibition garnered a mass of buzz and Hijack's landmark debut was featured in Art of England's June 2013 issue, Huffington Post UK, The Art Newspaper and The Telegraph.
In October of 2013, Hijack was invited to do an exhibit at the Dieresis Cultural Center in Guadalajara, Mexico. The exhibit was extended for months, attracting large crowds, drawing a mass of media attention, and delighting international art collectors and audiences.
The year of 2014 proved an incredible one for Hijack, as his rise within the art scene was meteoric. In June 2014 Hijack mounted a solo show titled Life Through Street Art at one of Paris' most chic contemporary galleries. In November 2014, Hijack had his Asian art show debut. The show created an avalanche of press for Hijack, including a feature in Vogue Japan.
The following year was nothing short of extraordinary. In 2015, he collaborated with world-renowned Swiss watchmakers Hublot and Fashion TV to have a show on the Swiss Alps in Gstaad. The show took place at the famous Palace Hotel and again received the attention of art collectors across the globe.
In addition to his gallery shows and solo street art installations, Hijack also collaborates with other internationally-renowned street artists, including New York's Cope and Japan's Dragon 76.
Lately Hijack has been entrenched in a new body of artwork, working with shattered glass to create stark, three-dimensional images. His talent is showcased in his detailed stencil work, controlled paint drips and urban compositions that are simple yet striking. His work on cement, glass and metal give a fresh and raw feel to his works, which live somewhere in the intersection between street art and fine art. For Hijack, art is a lifestyle, a passion. And his signature style, steeped in positivity, presents a refreshing future for the next generation of artists.